The 3rd Annual Meeting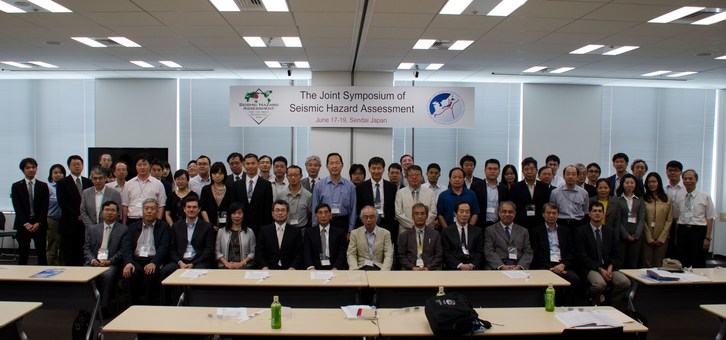 The Joint Symposium of Seismic Hazard Assessment, June 17-19, 2013, Sendai, Japan
This joint symposium of seismic hazard assessment includes multiply meetings of
Workshop on the ground motion attenuation models
The 3rd annual meeting of China-Japan-Korea cooperative program
The 2nd TEM-NIED Workshop
We were so pleased to have special lecture from Professor Kojiro Irikura. The participants joined the symposium not only from these cooperative programs but also from: PEER center UC Berkeley, IGP CEA, GEM, IGP VAST, UJF France and major universities, institutes in Japan. To let participants experience the destructive disasters from the Tohoku earthquake and tsunami, we arranged the two-days field trip along the east Pacific coast areas. We have issued an 80-pages abstract proceedings include a) 33-oral and 19-poster presentations, b) the research activities of the Japan-China-Korea cooperative program, c) the NIED-TEM workshop, and d) field trip description.
---
After the lesson learnt from the 2011 M=9.0 Tohoku earthquake, the seismic hazard assessment issues have been reconsidering in Japan. Many fundamental researches and improvements have been gradually developing since then, such as 1) modeling of seismic activity with no oversight to low-probability earthquakes, 2) preparation of strong-motion evaluation considering low-probability earthquakes, 3) development of methodology for complementary use of PSHM and SESM, and 4) sophistication of techniques for prediction of strong-motion for mega earthquakes. Through this symposium, the more extensive cooperation for advanced seismic hazard assessments could be carried out in East Asia, Asia, as well as in the world.
Please note that presentations appeared are through courtesy of the presenters for "PERSONAL USE ONLY" and the copyrights fully belong to the authors. If you want to use any figures, texts and pictures in the presentation materials in any other purposes, please be sure to contact with the authors to get permission (if you need their contact information, please let us know).
Program on 17 June 2013
Program on 18 June 2013
Program on 19 June 2013
Poster Session